¡@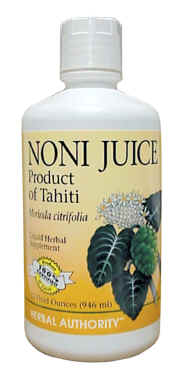 Morinda citrifolia
Certified Product of Tahiti
¡@
Liquid Herbal Supplement
Supplement Facts
Serving Size 1 ounce (30 ml)
Amount Per Serving %Daily Value
Noni (Morinda citrifolia) (fruit) 700 mg *
*Daily Value not established.
Ingredients: Premium Grade Morinda Citrifolia in Purified Water, Agave Nectar, Natural Raspberry Flavor, Citric Acid, Potassium Sorbate, Potassium Benzoate.
¡@
Noni Juice, which comes from the Pacific Island of Tahiti, uses only the highest grade Morinda citrifolia. ¡§Division Name¡¨ Noni Juice is cold-processed to preserve the naturally occurring enzymes, phytonutrients, vitamins, and trace minerals that make Noni so beneficial.
¡@
Directions: SHAKE WELL BEFORE USING. For adults, take one (1) ounce daily or as desired, preferably before meals.
¡@
GUARANTEED FREE OF: yeast, wheat, gluten, milk or milk derivatives, lactose, sugar, soy, artificial color, artificial flavor, sodium (less than 5 mg per serving).
¡@
Pregnant or lactating women should consult a doctor before using any product.
¡@